Guest Speaker will be Dr. Enrique Beldarrain Chaple
November 16, 2016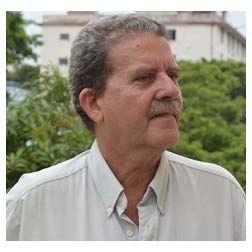 Enrique Baldarrín Chaple, MD, PhD is Chief of the Research Department at the National Information Center of Medical Sciences and a Professor of Public Health and the History of Medicine at the National School of Public Health in Havana, Cuba.  He has over 50 professional publications (books, articles, etc.) as well as major research grants (e.g., from the David Rockefeller Center at Harvard University) and has received prestigious Cuban awards for both his publications and his contributions to the development of the Cuban public health system. His international activities have included lectures, expert consultations, field work, visiting professorships, and the like in Puerto Rico, Spain, Angola, Costa Rica, Mexico, Canada, Brazil, and the U.S. (at such universities as Harvard, Yale, and Brown).  He has been awarded a 2016 Fellowship to serve as a Visiting Scholar at Brown University.
Dr. Baldarrín Chaple is currently in the U.S. visiting researchers and educators at Brown University in Providence, RI and participated in a Cuban Symposium at Indiana State University http://www.indstate.edu/cas/polisci/cuban-symposium in October and will be speaking at Harvard University on November 18. Dr. Baldarrín Chaple will be the guest speaker for the Global Health Grand Rounds at Weill Cornell on November 29 and his lecture will focus on the Cuban public health system (where he significantly contributed to its development and achievements).
Please join us in this Grand Round on November 29 at 5:00PM in the Belfer Research Building, 413 East 69th Street, Conference Room 302 A/B. Light refreshments will be served.